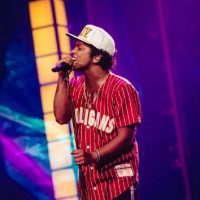 Courtesy Warner Music/Atlantic RecordsClassic rock stars may have done well on the road in 2017, but younger artists did themselves proud too, according to Pollstar's year-end list of the Top 20 Worldwide Tours.
Coldplay ranked #3 on the list, grossing $238 million on their A Head Full of Dreams tour, while Bruno Mars was right behind them, raking in just over $200 million with his 24K Magic tour. Ed Sheeran was #8, with a worldwide gross of just over $124 million for his Divide tour. At 26, he's the youngest artist in the top 10, and managed to out-earn both The Rolling Stones and Garth Brooks.
Justin Bieber is the next-youngest artist on the chart: he ranks #12 with his Purpose world tour taking in just under 94 million bucks. The first female artist to appear on the chart is Celine Dion, who came in at #11 thanks to her Las Vegas show and an arena tour she did earlier this year.
Further down, Lady Gaga is in at #15, right below her hero, Bruce Springsteen, who raked in nearly $88 million with his Broadway show. Other artists in the top 20 include Billy Joel, The Weeknd, country couple Tim McGraw & Faith Hill, and Ariana Grande.
The #1 spot on Pollstar's chart in 2017 is held by U2, who took in $316 million with their tour in support of the 30th anniversary of their landmark album The Joshua Tree.
Copyright © 2017, ABC Radio. All rights reserved.