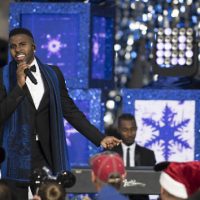 Disney/Image Group LAWhen Jason Derulo was a kid, he just couldn't wait until Christmas morning to open his presents.
"I was one of those kids that kinda snuck in very late at night 'cause I wanted to see what I had for Christmas," the singer explains.
He says he would stealthily poke a hole in the wrapping paper, just big enough to see what was inside, then he'd turn the gift around so no one would notice.
"I'm not proud of it, just put it like that," he laughs.
Now, instead of creeping around the tree, the "Want to Want Me" singer is celebrating Christmas at Disney World — he'll perform on the ABC holiday special Disney Parks Magical Christmas Celebration.
"I'm performing 'This Christmas,' Donny Hathaway-style," he says of the holiday classic. "It's a upbeat Christmas song, you know? I wanted to do something a little bit more upbeat…so I definitely wanted to get the crowd, you know, up and snapping."
The special airs December 25 at 10 a.m. ET on ABC.
Copyright © 2017, ABC Radio. All rights reserved.