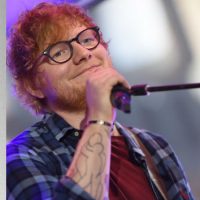 ABC/Paula LoboEverything Ed Sheeran did to make sure he'd have the #1 song on the chart in his home country this Christmas has paid off: "Perfect" has scored the title of the "U.K.'s Official Christmas Number 1."
Britain's Official Charts Company has confirmed that "Perfect" has snagged the top spot, thanks to sales of 85,000 units. Ed goosed both sales and streams of the song by releasing duet versions with both Beyonce and Andrea Bocelli earlier this month.
In a video message, Ed tells OfficialCharts.com, "Thank you very much for making 'Perfect' Christmas Number 1. This is an actual dream come true and I'm very proud and happy. Thank you so much for streaming it and buying it, and have a very Merry Christmas, happy holidays and a Happy New Year."
On Instagram, Ed wrote, "Perfect is Christmas number one! Merry Christmas everyone, have a wonderful holiday with your families, see you in the new year x."
And in more year-end good news for Ed, his album Divide has finally sold a million copies in the U.S. — 1.013 million, to be exact, according to Nielsen Music. It's only the second album of 2017 to hit a million copies, following Taylor Swift's Reputation, on which Ed appears.
Ed's first scheduled concert date of the year isn't until March, but before that, he'll be in New York City for Grammy Week at the end of January.
Copyright © 2017, ABC Radio. All rights reserved.