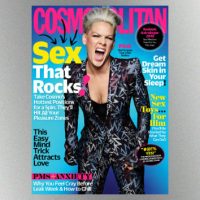 Jason KimPink is the latest Cosmopolitan cover girl. The singer graces the magazine's January issue, in which she reveals some little-known facts about herself.
Pink names Ellen DeGeneres as a famous woman she admires because "she always leads with kindness." Pink is a frequent guest on The Ellen DeGeneres Show and even recorded its theme song.
Pink also reveals the one thing people get wrong about her is, "That I'm angry."
As for a fictional character she identifies with, that would be Angelina Jolie in Girl, Interrupted. Why? "I'm batsh**," Pink says.
Pink, who has previously said she's raising her kids in a label-less household, also gives some dating advice to her six-year-old daughter, Willow.
"She said to me the other day, 'How many boys can I have at once?' And I said, 'Excuse me?'" Pink recalls. "I said, 'Probably none of them because they won't deserve you. They have to be kind, respectful, they have to be chivalrous, they have to be good to their moms, they have to be good-looking, they have to be funny.'"
Copyright © 2017, ABC Radio. All rights reserved.