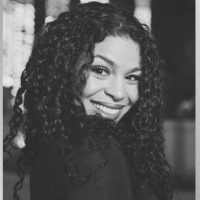 Varela MediaWhile she's expecting her first child, Jordin Sparks is also helping other people's children. The American Idol champ has teamed with U.S. Cellular to promote its #FutureofGood program, which encourages kids to make their communities a better place. Jordin plans to pass those values onto the baby boy she's expecting in 2018.
"I have a heart for kids and like encouraging them to do things," she tells ABC Radio about her partnership with U.S. Cellular. She explains that the Future of Good program is "all about shining a spotlight on the youth making a difference."
From now through December 31, U.S. Cellular wants people who know kids who are helping their communities via charity projects to nominate them at TheFutureofGood.com. In January, the company will present three winners with $1,000 grants to continue their work.
"When I read [about the program], I was like, 'This is perfect. I would love to be a part of this,'" Jordin tells ABC Radio, adding that her husband Dana Isaiah shares her love of helping folks.
"He's got the greatest heart for service and for other people," she says. "I think to be able to have those core values together that are solid [is] gonna be great — when our little one comes into this world, we'll be able to instill those things into him as well."
Jordin and Dana look forward to sharing their baby joy with loved ones this Christmas.
"We found out that it was a boy on Thanksgiving, which we got to tell everybody, and so it's just a really cool holiday season," she says.
"We get to be with the family — he gets to know my family, I get to know his — and we're really fortunate that we have families that are just so excited to have this new addition coming."
Copyright © 2017, ABC Radio. All rights reserved.