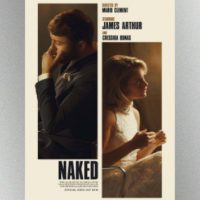 Columbia RecordsNow that Prince Harry's engaged to actress Meghan Markle, what's to become of his ex-girlfriends? Well, one of them is starring in James Arthur's new video.
The video for James' new single, "Naked," is set in the late '50s or early '60s, and features James as the host of a live TV show, and Cressida Bonas, Harry's ex-girlfriend, as his guest. James and Cressida apparently have some history, because right before they go live, she says, "Not now, James!"
At first, James pretends everything's O.K. and the show begins, and viewers seem to be enjoying the interview. But when they return after the commercial break, James apparently can't take it any longer and starts to reveal his true feelings to Cressida, even though they're both live and everyone is watching. He storms off the set, but then comes back and the two embrace.
The final shot shows Cressida being led out to the set, sitting down and saying, "Hi!" to James, as if they don't know each other. It's not clear if it's a flashback to their first meeting, or a hint that the entire video has been a dream.
Cressida, who's also an actress, dated Prince Harry from 2012 to 2014.
James will perform "Naked," as well as a holiday song, on Live with Kelly and Ryan on Thursday, December 7.
Copyright © 2017, ABC Radio. All rights reserved.