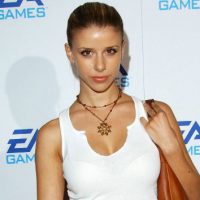 Jon Kopaloff/Getty ImagesMelissa Schuman of the former girl group Dream appeared on Dr. Oz Friday to talk about her sexual assault claims against Backstreet Boys' Nick Carter.
She tearfully explained that she decided to come forward now after hearing about the Harvey Weinstein allegations. She says her friend encouraged her to tell her story, advising her, "There's been no other time in history that women have been able to stand up and speak out and be able to be supported."
When asked by Dr. Oz what she would say to Nick now, Melissa said, "That I forgive you. That I don't want anything from you. I wish you only the best. I don't want your money. I didn't do this to hurt you or your family. I did this for me, because I needed this healing."
She added, "And I also came forward because I want to inspire other victims, other people who have been assaulted, to come forward and know that they have a voice."
In a blog post last month, Melissa alleged that Nick sexually assaulted her when she was 18 and he was 22. He has denied the claims.
Copyright © 2017, ABC Radio. All rights reserved.