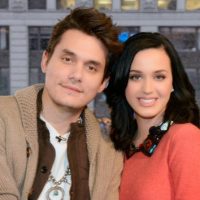 ABC/Ida Mae AstuteJohn Mayer has no problem keeping tabs on his ex, Katy Perry.
During an appearance on Bravo's Watch What Happens Live, the singer admits he watched some of Katy's 96-hour Witness live stream.
"That's her thing, man. To go big and bold," John says. "Yeah, I checked in with it." But, he adds, "It's definitely odd to watch your ex-girlfriend asleep."
But John points out that it would be weirder if he didn't watch, considering he and Katy were together for years. He says he also has no qualms about texting his ex.
"I texted Katy 'happy birthday;' it was four in the morning," he says. "…How weird is it to be like, 'I want to say happy birthday now, but I'm going to wait until tomorrow afternoon.' You just gotta be a person. Be human about it."
Copyright © 2017, ABC Radio. All rights reserved.