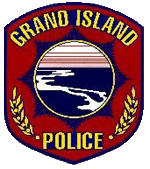 GRAND ISLAND- A Grand Island police officer has been placed on leave after being accused of assaulting a 26-year-old woman.
A news release from the department says the 31-year-old officer is on paid administrative leave. The release says he's accused of assaulting the woman while he was off duty the night of Oct. 30 in a Grand Island residence. Capt. Jim Duering said the incident "was not a domestic offense." Police say the case has been sent to the Hall County Attorney's Office for consideration of any criminal charges.
The officer has been on the force since 2013.