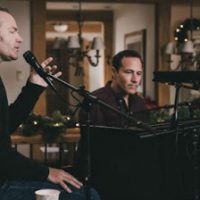 Duston ToddMembers of the military are the stars of a new lyric video for "Christmas Where You Are," a holiday single by Jim Brickman and John Ondrasik of Five for Fighting.
As the lyrics to the song flash by, we see footage and still photos of our troops, alone and with members of their families. There are numerous scenes of tearful reunions as soldiers embrace their spouses, children and parents as they return home; there are even a few shots of soldiers greeting their dogs.
The chorus includes the lyrics, "May angels fly beside you/May Heaven steel your heart/May God remind you in his grace/Though tonight I cannot touch your face/It doesn't matter if you're near or far/It's Christmas where you are."
"Christmas Where You Are" is now available for download, and it will also appear on Jim Brickman's album A Joyful Christmas, due out Friday.
As previously reported, a portion of the proceeds from "Christmas Where You Are" will benefit two charitable initiatives: the Gary Sinise Foundation, which creates and supports programs to help defenders, veterans, first responders and their families, and What Kind of World Do You Want, which Jon created to benefit five different charities, including Operation Homefront.