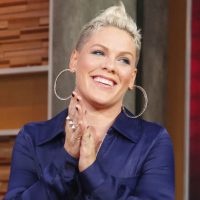 ABC/Lou RoccoPink's live performances on award shows are always memorable, and what she has planned for this year's American Music Awards will continue that tradition.
Pink will perform the title track of her #1 album, Beautiful Trauma, on the AMAs, and we've been promised a "mind-blowing performance unlike anything that's been seen before," that's also "fearless" and "one-of-a-kind."
While Pink's aerial acrobatics are legendary, there's no word on what, exactly, this performance will consist of.
This is Pink's first AMA performance since 2012, when she performed "Try." She just performed her song "Barbies" last night on the Country Music Association Awards.
Other performers at this year's AMAs include Diana Ross, Christina Aguilera, Kelly Clarkson, Selena Gomez, Demi Lovato and many more.
The American Music Awards air November 19 on ABC at 8 p.m. ET.
Copyright © 2017, ABC Radio. All rights reserved.