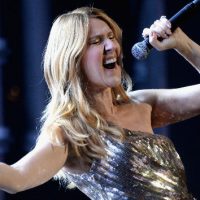 Jeff Kravitz/Getty Images via ABCOver the past 20 years, we've all seen Celine Dion standing onstage singing her signature ballad, "My Heart Will Go On." But how many times have you seen her getting down to an EDM track by one of the world's top deejays?
The Canadian website Exclaim! reports that last night in Las Vegas, superstar deejay Steve Aoki played a benefit show at the OMNIA nightclub at Caesars Palace, which is where Celine has her residency. She ended up making a surprise appearance at the event, which raised money for the victims of last month's mass shooting in Sin City.
As fan-shot video reveals, Celine, in a glittery gown, sings "My Heart Will Go On," and then Aoki starts playing an electronic dance music remix of the track. Celine immediately starts busting out some insanely awkward dance moves — even lying on her back at one point — as Aoki joins her onstage and the crowd goes wild.
Celine's latest round of shows at the Colosseum at Caesars Palace run through November 25. After a brief break, Celine will return for a pair of New Year's concerts and resume regular performances through January 20.
(Note: Celine starts dancing 4:10 into the video)
Copyright © 2017, ABC Radio. All rights reserved.