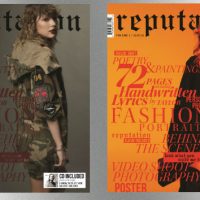 Courtesy of TargetTaylor Swift is finally in control of her magazines headlines.
A new behind-the-scenes video has been released, showing how the singer designed her very own Reputation magazines. The two collectible editions will be available exclusively at Target on Friday, the same day her album of the same name is released.
Each of the magazines will contain personal poetry and photos, artwork by Taylor, handwritten lyrics, behind-the-scenes photos from the "Look What You Made Me Do" video, and an exclusive poster.
In the video clip, Taylor is seen posing for the magazine's photoshoot and painting pages that serve as the backdrop for handwritten lyrics in the magazine.
Taylor also revealed the backs of the magazines in a Twitter post, showing off funny tabloid-esque headlines including ones about her cats Olivia and Meredith. One reads, "Who is Olivia's real father?," while another one says, "Catitude! Meredith is out of control!"
According to Billboard, Taylor's first major interview for this album cycle will appear in the magazines. Billboard predicts her media blackout on interviews will end once the magazines are released.
The magazines, which retail for $19.99 per volume, will include a copy of Taylor's Reputation album.
Copyright © 2017, ABC Radio. All rights reserved.