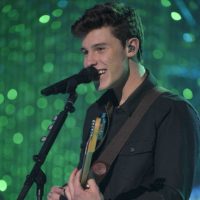 ABC/Matt BrownShawn Mendes has made history: he's the youngest person ever to score three #1 songs on Billboard's Adult Contemporary chart.
Shawn, who's only 19, has just topped that chart for the third time with his latest hit, "There's Nothing Holdin' Me Back." Prior to that, he hit #1 in 2016 with "Stitches" and did it a second time in early 2017 with "Treat You Better." He's the only person to accomplish this feat before the age of 20. All three of those songs are featured on Shawn's brand-new album MTV Unplugged.
An artist who Shawn once opened for almost pulled off this feat, but failed: Taylor Swift. She scored her first two number ones on the Billboard AC chart when she was 19: "Love Story" and "You Belong with Me," both in 2009. But when she scored her third, "Mine" in 2010, she was 20. Oh…so close.
Before that, Mariah Carey scored two number ones on the chart at the age of 20: "Vision of Love" and "Love Takes Time." By the time she got to her third, "I Don't Wanna Cry," she had reached the ripe old age of 21.
By the way, two months ago, Shawn set the same record on Billboard's Adult Pop Songs chart, with the same three songs.
Copyright © 2017, ABC Radio. All rights reserved.