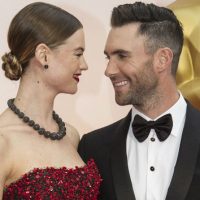 ABC/Rick RowellOn The Ellen DeGeneres Show Tuesday, Adam Levine revealed the gender of his second child with wife Behati Prinsloo.
"It's a girl, we're having another girl," he announced.
Adam told Ellen the news so she can get started on picking a name. The talk show host famously named Adam and Behati's first child, Dusty Rose.
"Just to say that I named one of your children is not a big story, but to name both is a big story," Ellen joked.
From the sound of it, Ellen may have even more chances to name their kids. Adam and Behati don't plan to stop at two.
"I want a lot [of kids], I thrive in chaos," Levine said, adding that Behati feels the same. "She was an only child, so look out. She wants, like, 100 babies, but I dunno if I can do that."
As for one-year-old Dusty Rose, Adam said he marvels at her calmness.
"She's so sweet. She's like a little Zen baby, she's so quiet," Adam said. "Which is funny 'cause her parents, we're like maniacs. And she just kind of calms us down. She's very chill."
Behati is currently seven months along with baby number two.
Copyright © 2017, ABC Radio. All rights reserved.