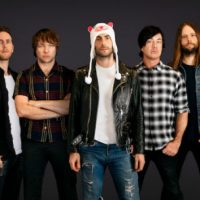 Travis SchneiderMaroon 5's sixth studio album, Red Pill Blues, arrives today. Its Matrix-inspired title is meant to reflect how difficult it is to accept the current state of the world today.
In The Matrix, Laurence Fishburne's Morpheus offers Keanu Reeves' Neo two pills, blue and red, and tells him that if he wants to see the world as it really is, he needs to take the red pill. Maroon 5 guitarist James Valentine says the album title takes that concept a step further.
"We were going back and forth on naming the record and this title came along and it seemed to fit," he tells ABC Radio. "2017 has been a really painful year for a lot of people, and when you are seeing things clearly, it can be kinda rough, and that can give you the blues — hence Red Pill Blues."
Maroon 5's last album, V — which featured hits like "Maps" and "Sugar" — included collaborations with songwriters like Ryan Tedder, Nate Ruess of fun., Sia, and Mike Posner. For Red Pill Blues, they've got a different lineup, including Charlie Puth.
"We worked with a lot of new producers, a lot of new songwriters on this record," says James. "And I think that's really important for us, this many years into our career, to inject some fresh energy, some new inspiration — that keeps us going creatively."
Red Pill Blues also includes more guest artists than any previous Maroon 5 disc, including singer/songwriter Julia Michaels, rappers LunchMoney Lewis and A$AP Rocky, and R&B singer SZA [sizzah]. According to James, it helps keeps things exciting.
"I think six albums in, I think we're just kinda sick of each other," he laughs. "So we're looking for other people to sorta spice up our marriage!"
Copyright © 2017, ABC Radio. All rights reserved.