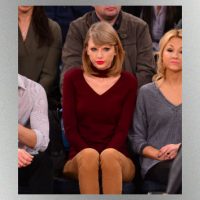 James Devaney/GC ImagesAt least Taylor Swift can laugh at her mistakes. A new addition to Taylor's Reputation merchandise seemingly pokes fun at a fashion faux pas she made a few years ago.
In 2014, Taylor accidentally wore a burgundy sweater backwards, with the cutout detail in front instead of the back.
Her new merch lookbook features a similar looking burgundy sweater, worn the way Taylor rocked it with the cutout in the front. This one has a "Rep" patch on the collar.
Of course, it hasn't been confirmed that Taylor did this on purpose, but her fans seem convinced.
"Everyone told her she was wearing the shirt wrong so she went ahead and made it herself. Iconic," one fan wrote on Twitter.
Another wrote, "people made fun of taylor for wearing her shirt the wrong way & she went and made it INTO MERCH. SHES A TRUE QUEEN."
If you're in New York City, you'll have the chance to score this piece of merch and more when the Reputation pop-up store opens November 12.
Fans will also be able to take part in fun photo ops at the store, including costumes and props from the "Look What You Made Me Do" music video.
Taylor's Reputation album comes out November 10.
Copyright © 2017, ABC Radio. All rights reserved.