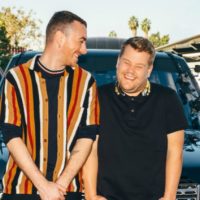 Terence Patrick ©2017 CBS Broadcasting, Inc. All Rights ReservedSam Smith joined his pal James Corden on Wednesday night's The Late Late Show for the latest edition of Carpool Karaoke.
Sam and James got right down to business with a bit of "Too Good at Goodbyes."
James noted that the two of them used to be about the same size, but that Sam lost weight, which troubled James a bit. Sam joked, "My plan is to keep my weight down for another ten years. I just want to live in caftan."
The pair duetted on "Lay Me Down." Sam told James, "You are one of the first people to ever draw any attention to the song. …you did a tweet saying you liked the song. I think I was working in the bar at the time. …And I was like, 'Oh my God, that's amazing. He likes my music.'"
Next, they sang "I Know I'm Not the Only One" and "Money on My Mind."
Sam told his story about how he got in trouble skipping school to see Lady Gaga.
After the pair sang "One Night Stand" and "Pray," James asked Sam about his love of Fifth Harmony. Sam said, "'Work from Home,' I listen every time I go out. I think it's my wedding song, I want to walk down the aisle to it in heels. I'd love it if I got Fifth Harmony at my wedding…"
As they started to sing the song, James pulled over and made a phone call. Soon, Fifth Harmony jumped in the backseat to surprise Sam, who was ecstatic. After a minute or so of screaming and fawning, Sam, James and the girls got down to "Work from Home" — complete with dance moves!
"That just made my year!" Sam said.
Sam Smith's new album, The Thrill of It All comes out Friday.
Copyright © 2017, ABC Radio. All rights reserved.