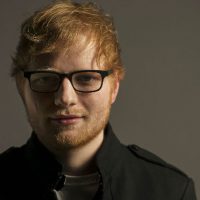 Greg WilliamsEd Sheeran and Elton John are sharing their favorite childhood music memories for a new charity campaign called "End the Silence," which aims to help children in orphanages.
Ed reveals the most memorable song from his childhood is "Carrickfergus" by Van Morrison and the Chieftans, which his parents would play on the long drive to London. In fact, he even name drops the song in "Galway Girl."
"My parents would commute and I'd be sat on the back seat and that was pretty much the only tape cassette they had — that and The Beatles," he recalls.
He adds, "It's the one song I remember. It takes me back to that specific moment, much like songs from my teenage years take me back to being a teenager or songs from two years ago transport you back there."
For Elton, his memorable song is "The Deadwood Stage (Whip-Crack-Away!)" by Doris Day. He says he was given the record by his mother after a trip to the dentist.
"There's so many records from my childhood, but that one was so important because I was so frightened to go to the dentist so it was bribery and corruption on my part to get that record and I played it and I played it and I played it and I played it," Elton says.
The campaign, launched by Hope and Homes for Children, encourages music fans to share their own music memories and to donate to the charity. The campaign's website says, "Together we can look forward to a day when every child grows up surrounded by love, family and music."
Copyright © 2017, ABC Radio. All rights reserved.