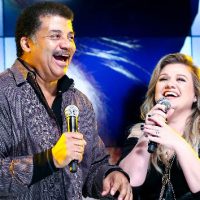 Paul Zimmerman/Getty ImagesFans tuning into Kelly Clarkson's YouTube livestream on Wednesday probably didn't realize that it would include a semi-serious discussion about the existence of life on other planets. Then again, the moderator for the event was noted astrophysicist Neil deGrasse Tyson.
During the event, Tyson asked Kelly about her life and her music, but then Kelly had a question for him. "Do you think there is life life outside of Earth?" she asked. "And when I say 'life,' I don't mean, like, 'Yes, I think water once existed somewhere'…I mean, like, LIFE!"
"You mean, like, serious life that you can walk up to it and say hi?" Tyson responded. "I'm just saying we don't even know!" Kelly replied.
Tyson then replied, "My biggest fear is that in fact, there is life out there, and they have visited Earth, and then left because there's no sign of intelligent life on Earth, they've concluded." The two laughed, as Kelly added, "They were like, 'NOPE!' They're done. We're like cave people to them."
Kelly also told Tyson she feels the universe "speaks" to her, in the sense that, like most artists, she feels she's simply a "vessel," especially when it comes to songwriting. But when Tyson asked her if she "derives inspiration from the universe itself," she laughed.
"My album's called Meaning of Life!" she exclaimed. "Damn! I gotta make it more clear to you?"
Copyright © 2017, ABC Radio. All rights reserved.