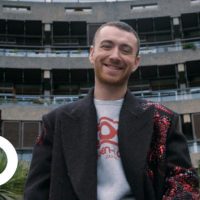 Courtesy of i-D magazineWhen looking for the proper beverage to drink while listening to Sam Smith's upcoming album, The Thrill of It All, think whiskey, not wine. In a video interview with i-D, the singer uses alcohol as a metaphor to compare his self-reflective sophomore album with his first release, In the Lonely Hour.
"My first album, to me, it's like a gin and tonic with your friends, gossiping about a boy you really fancy who doesn't know who the f*** you are," he says. "And this album is like a whiskey late at night, straight up, by yourself, trying to figure out how to like yourself."
The Thrill of It All was born out of a dark period in Sam's life, when he was dealing with the loneliness of fame and issues with body image.
"When I walk off stage, I walk straight into a dressing room and it's deadly quiet and it's just me," he explains. "That drop is really dangerous."
But he adds that he embraces the sadness, because it's such a huge part of life.
"I find it empowering," he says. "I love sad films, I love dark paintings and I go back to those old [Alexander] McQueen [fashion] shows as well and how powerful they were and how dark they are. I ask myself, 'Am I in this for music or for the fame?' And it was the music. The music really saved me."
The Thrill of It All comes out Friday, November 3.
Copyright © 2017, ABC Radio. All rights reserved.