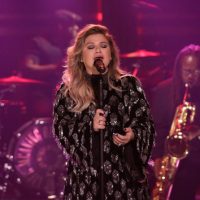 Andrew Lipovsky/NBCKelly Clarkson knows her songs backwards and forwards — literally!
During an appearance on Tuesday's The Tonight Show, host Jimmy Fallon guessed that the 35-year-old "Love So Soft" singer had performed her hits so many times, she must know them backwards and forwards.
When Clarkson agreed, he decided to put her to the test by making her actually sing her 2005 hit "Since U Been Gone" in reverse.
Kelly gave it a shot and proved she sounds amazing whether singing backwards or forwards!
Later, Kelly performed "Whole Lotta Woman," from her eighth and latest studio album, Meaning of Life, available now.
Copyright © 2017, ABC Radio. All rights reserved.