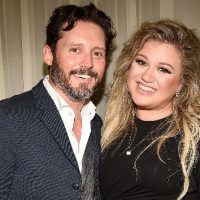 Kevin Mazur/Getty Images for Atlantic Records
As Kelly Clarkson sings in one of the songs on her new album, she's a "Whole Lotta Woman" — but she says she's lucky enough to have found a man who's totally cool with that.
Speaking to Entertainment Tonight, Kelly says, "I was single for a very long time and it's hard when you're in the limelight [and] you're financially set …it's just a lot of intimidation [when it comes to guys]."
"I'm a whole lot of person," she admits. "And I've dated people who are like, 'You're a lot,' and that's cool — I am a lot but [I thought,] 'Somebody is going to love that some day and it's not you, so that's fine.'"
That's why Kelly says she was so happy when she got together with Brandon Blackstock, her husband and the father of her daughter River and son Remy.
"I found a cowboy, a real man that can handle this," she tells ET. On October 20, they marked their fourth wedding anniversary — it's not like either of them remembered it, though.

"We have forgotten two out of four of our anniversaries," she laughs. "If we're working, we forget what day it is."
"We're so happy we just forget," Kelly adds. "Every day is an anniversary."
Copyright © 2017, ABC Radio. All rights reserved.