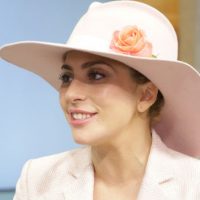 ABC/Fred LeeLady Gaga and her fiance Taylor Kinney broke up in July of 2016, but now, the singer may be ready to take the plunge again: she's reportedly engaged to her current boyfriend, Christian Carino.
US Weekly reports that Carino, a talent agent who's been dating Gaga since February, secretly proposed to Gaga over the summer after asking her dad for his blessing. However, US Weekly reports the two aren't planning a wedding yet because Gaga's still recovering from her latest health issues, reportedly caused by her fibromyalgia.
ABC Radio's request to Gaga's rep for a comment on the report was unanswered at press time.
Carino and Gaga emerged a a couple earlier this year after they were spotted kissing before Gaga's Super Bowl halftime show. The two have been photographed together numerous times since then. Not long ago, Gaga shared a photo of herself wearing a pink bikini, with Carino lifting her off the ground.
In other Gaga news, she dressed as Edward Scissorhands for Halloween, and shared numerous photos of herself in her very authentic costume.
Copyright © 2017, ABC Radio. All rights reserved.