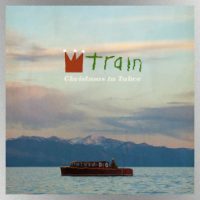 Sunken Forest Music/Crush Music
When it came out in 2015, Train's first holiday album Christmas in Tahoe — featuring the #1 hit "This Christmas" — was an Amazon exclusive. But as of Friday, it's now available at all digital retailers, and it has five newly recorded songs to help you ring in the holiday season.
The Amazon deluxe version of the album originally featured 15 tracks, including three new originals and covers of Christmas tunes by artists ranging from Stevie Wonder and The Pretenders to Elvis Presley and Joni Mitchell. The standard version had 12 tracks.
The new Amazon deluxe version now has 20 tracks, while other digital services are carrying a 17-track version. But all versions have the five new songs, which include:
–"Merry Christmas Baby," originally by blues singer Charles Brown; covered by artists ranging from Bruce Springsteen to Bonnie Raitt to Christina Aguilera
–"The Cherry Tree Carol," a traditional song; also covered by Sting on his album If On a Winter's Night…
–"Please Come Home for Christmas," originally by Charles Brown; the Eagles have a popular version, too
–"Run Run Rudolph," originally by Chuck Berry
–"Blue Christmas," originally a country hit, made famous by Elvis Presley
Train recently wrapped up a tour of Europe in support of their most recent album, a girl a bottle a boat. In March, they'll launch their fifth annual fan cruise, Sail Across the Sun, featuring special guests like MAGIC!, Michael Franti, Christopher Cross, Lisa Loeb and many other acts.
Copyright © 2017, ABC Radio. All rights reserved.