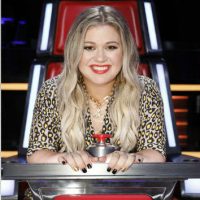 Trae Patton/NBCBefore she officially becomes a coach on The Voice next season, Kelly Clarkson will be getting some practice starting tonight as this season's key advisor. Kelly feels that she has a lot to offer, except for one tiny problem: she never shuts up.
"I think that's my hardest thing about doing this, is, you know, letting other people talk," she laughs. "It's like, yeah, I get really excited."
But overall, Kelly explains, "I was excited to be key advisor on The Voice just because I'm doing next season, so I was kinda warming up the chair, I was pressing the button. I'm very excited about it so it's fun to kinda come and have a little rehearsal for it."
Also good preparation? Her experience on American Idol. She says her own vocal competition experience makes her better equipped to advise the contestants.
"I think I'm a good example to show them of what can happen," she says. "Like, what can really come to fruition at the end of this road."
Kelly will be working with the members of Teams Adam, Blake, Jennifer and Miley starting on tonight's episode of The Voice, which airs at 8 p.m. ET on NBC.
Copyright © 2017, ABC Radio. All rights reserved.