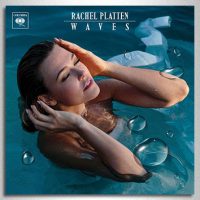 Columbia RecordsRachel Platten is setting Waves into motion: her album of the same name arrives in stores and at digital providers Friday. The "Fight Song" singer says fans should expect honest lyrics, but also a big change in her sound.
For Waves, Rachel collaborated with the likes of OneRepublic's Ryan Tedder and super-producers Stargate. "I really experimented with the sound on it. I worked with some incredible producers and collaborators who just let my inner artist just go crazy," Rachel tells ABC Radio.
"I played with sounds and textures. I listened to everything from gospel music to indie folk rock to rap, and that was more the influence than other female pop singers," she adds. "But I think that fans are gonna be really excited, and maybe a little surprised, to hear this record!"
When it came to the songs, Rachel says she was focused on letting fans know that despite all her success, she's far from perfect.
"We all have these masks up and these walls up — I do, too — about, like, 'Hey my life is perfect, look at this highlight reel I put on Instagram!'" she tells ABC Radio. "I think when we can kind of admit, 'I'm struggling, I'm insecure, I'm looking around me for approval,' it gives other people permission to do the same."
"So that's what I want to do with this new music and this new record," Rachel adds. "Just kind of demystify the the fact that yeah, I sing 'Stand by You' and wrote 'Fight Song," and that doesn't mean I have all the answers figured out!'
Rachel insists: "I'm still struggling with the same demons in my head, the same insecurity, the fears that I was before. And now, this time, I get to do it through these songs."
Copyright © 2017, ABC Radio. All rights reserved.