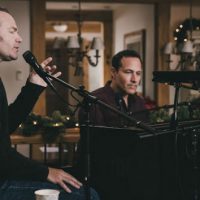 Duston ToddTwo great pop pianists — Five for Fighting's John Ondrasik and Jim Brickman — have teamed up for a holiday song that pays tribute to the troops.
The song, "Christmas Where You Are," is out November 3 on all digital platforms, and will also be featured on Jim's upcoming album A Joyful Christmas, due November 10.
Through their work with the USO and Operation Care Package, both John and Jim seen first-hand how hard the holidays can be for the families of our troops. In a joint statement, they, "The holidays can be an especially hard time for our troops and their families. 'Christmas Where You Are' is a thank you and reminder to soldiers that we are with them in heart and spirit, wherever they stand, in service and sacrifice to our nation."
They add, "We hope that no matter where these brave men and women are stationed, the warmth and love of family transcends the miles. We want them to know that a grateful nation holds them close to our hearts."
A portion of the proceeds from "Christmas Where You Are" will benefit two charitable initiatives: the Gary Sinise Foundation, which creates and supports programs to help defenders, veterans, first responders and their families, and What Kind of World Do You Want, which Jon created to benefit five different charities, including Operation Homefront.
Copyright © 2017, ABC Radio. All rights reserved.