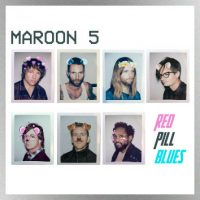 222/InterscopeWhile watching the MTV Video Music Awards in August, Adam Levine and his wife Behati Prinsloo got really bent out of shape when the show cut Julia Michaels' performance short. Well, now we know why they were so emotionally invested in the "Issues" singer's performance: she's on the new Maroon 5 album.
The band revealed the track listing for their new album, Red Pill Blues, online with a series of GIFs, and one of the songs, "Help Me Out," is a duet with Julia. Other guests on the album include rappers LunchMoney Lewis and A$AP Rocky. And of course SZA is featured on the current hit, "What Lovers Do."
Interestingly, the song "Cold," featuring Future, which the band released in February, isn't on the standard version of the album. Neither is "Don't Wanna Know," which came out a year ago. Both tracks appear on the deluxe version, however.
The duet with Julia is expected to be released on Friday, when the album goes up for pre-order. Red Pill Blues is due November 3.
Here's the track listing:
Standard Version
"Best 4 U"
"What Lovers Do" feat. SZA
"Wait"
"Lips on You"
"Bet My Heart"
"Help Me Out" w/Julia Michaels
"Who I Am" feat. LunchMoney Lewis
"Whiskey" feat. A$AP Rocky
"Girls Like You"
"Closure"
Deluxe version extra tracks:
"Denim Jacket"
"Visions"
"Plastic Rose"
"Don't Wanna Know ft. Kendrick Lamar"
"Cold ft. Future"
Copyright © 2017, ABC Radio. All rights reserved.