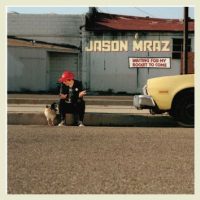 Atlantic Records/Elektra RecordsWe now know when Jason Mraz will be releasing the vinyl 15th anniversary edition of his debut album, Waiting for My Rocket to Come: November 17. This marks the first time the album has ever been available on vinyl.
The double LP will be available in standard black at all music retailers carrying vinyl records. A special orange vinyl edition will be available exclusively at Barnes & Noble. Each edition will feature expanded artwork and new liner notes.
As previously reported, Jason will also be playing an intimate show to celebrate the 15th anniversary. The concert will take place October 14 at San Diego's Spreckels Theater, where parts of "The Remedy" video were shot.
Next month, Jason joins the cast of Broadway's Waitress for a 10-week run as Dr. Pomatter.
Copyright © 2017, ABC Radio. All rights reserved.