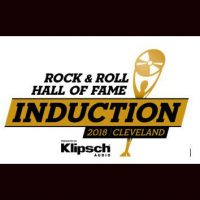 Courtesy Rock and Roll Hall of FameThe nominees for the Rock & Roll Hall of Fame's 2018 class have been revealed, and the list spans multiple genres of music, from rock, rap, metal and jazz to R&B, punk, progressive rock and funk. Among the big names included: Bon Jovi, Dire Straits, Eurythmics, The Cars, and The Moody Blues.
Of the 19 nominees, many are appearing on the ballot for the first time, including Eurythmics, Dire Straits, Kate Bush, Radiohead, Judas Priest and the Moody Blues. This year's nominees who've previously been on the ballot include Bon Jovi, The Cars, J. Geils Band, LL Cool J, Depeche Mode, Rufus featuring Chaka Khan, and The Zombies.
"It's a remarkably diverse group of artists, and it's reflective of the diversity of rock n' roll," Rock Hall of Fame President and CEO Greg Harris tells ABC Radio. "We have a number of different eras, we have a number of different styles of music, and just a great balance. And any five out of this would make for a wonderful induction class."
This is Bon Jovi's second time on the ballot — they've been eligible since 2008 but were first nominated in 2011. Harris says they're definitely a group fans are rooting for.
"It's exciting to have these bands that you know they bring anthem-like music to the masses and have impacted so many people," he tells ABC Radio. And because fans can vote, they actually have a say as to whether or not Jon Bon Jovi and the guys will finally make it into the Hall.
"The fan vote is really interesting," Harris explains. "It opens up today and runs 'til December 5 and last year, of the top five fan vote-getters, four of them were inducted. So this year, there's some artists that are clearly fan favorites, and I think their followers are gonna turn out en masse to vote for them."
You can vote for your favorites at RockHall.com. The top five artists chosen by the public will make up a "fans' ballot" that will be included with the other ballots. The final inductees will be announced in December, determined by a voting body of more than 900 artists, music historians and music industry insiders.
The 2018 Rock & Roll Hall of Fame Induction Ceremony will be held April 14 in Cleveland, Ohio, and will air on HBO.
Here's the full list of nominees:
Bon Jovi
Kate Bush
The Cars
Depeche Mode
Dire Straits
Eurythmics
J. Geils Band
Judas Priest
LL Cool J
MC5
The Meters
Moody Blues
Radiohead
Rage Against the Machine
Rufus featuring Chaka Khan
Nina Simone
Sister Rosetta Tharpe
Link Wray
The Zombies
Copyright © 2017, ABC Radio. All rights reserved.