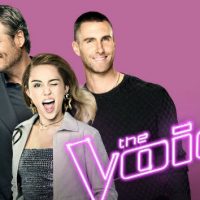 NBC UniversalThe Voice continued on Tuesday night with another hour of blind auditions.
Adam Levine, Blake Shelton, Miley Cyrus and Jennifer Hudson were back in their coaches' chairs, trying to add to their teams. Before the night was over, Miley and Adam landed two artists apiece, with another going to Jennifer and Blake getting shut out.
Here are the highlights of Monday night's episode:
Anthony Alexander, 17, who describes his style as a combination of pop, rock and soul, was hoping to get Adam to turn around for him, and got his wish with his cover of Childish Gambino's "Redbone." Jennifer and Miley followed. After comparing Alexander to Prince, Jennifer complimented the way he was "exploring" with his voice. Miley argued that Anthony needed to be on her team because she had the fire in her and wanted to win this season. Adam praised Anthony's voice, but also said he could help the teen improve his falsetto. Not surprisingly, Alexander went with Adam.
Sophia Bollman, a 17-year-old from California, who once performed for KISS' Paul Stanley and Gene Simmons at one of their restaurants, got a video message from Gene before her audition, encouraging her to "Go get 'em." Her rendition of Kelly Clarkson's "Invincible" got Blake and Miley to turn around. Blake admitted that he wasn't the obvious choice for the pop singer, but stressed that he'd worked with singers like her and could be a good coach for her. Miley said Sophia had an incredible pop, soul voice, adding that in spite of some shaky moments, Bollman had a great range and a lot of potential. Sophia chose Team Miley.
Karli Webster, a music major at the University of Southern California, auditioned with "You're So Vain," by her namesake, Carly Simon and touched off a battle between Adam and Miley. Adam said he felt Simon's spirit in the song and predicted Webster could go all the way in the competition. Miley, who liked the singer's 1960s-70s throwback style, said she looked forward to helping Karli make a mark in "herstory." She'll get that chance, as Webster joined her team.
"Alternative soul" artist Stephan Marcellus tackled Hozier's "Take Me to Church" and stumbled at the beginning of the performance, but still convinced Jennifer to turn her chair. She explained that Stephen had a great voice, and promised that with the right coaching he could "get there." He's now a member of Team JHud.
"Music nerd" Emily Luther sang backup for the likes of Dionne Warwick and Yolanda Adams, before landing a short-lived record deal of her own. Her performance of "Summertime," coaxed Blake, Adam and Jennifer to turn their chairs around. Adam was "mesmerized" by what he described as a "super '60s syrupy, jazzy tone." Blake joked that when Emily started singing, he wanted a martini. Jennifer heard a little Barbra Streisand in Luther's voice, suggesting that she could do show tunes, as well as some jazz numbers. Emily picked Adam, becoming the first female this season to join his team.
The Voice blind auditions continue Monday at 8 p.m. ET on NBC.
Copyright © 2017, ABC Radio. All rights reserved.