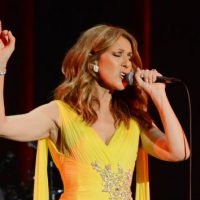 Denise TruscelloWhile some performers like Jennifer Lopez chose to keep their shows dark Tuesday night in the wake of Sunday night's Las Vegas massacre, Celine Dion took the stage at Caesars Palace, and dedicated the show — and its proceeds — to the victims.
Fifty-eight people were murdered and more than 500 were injured in the mass shooting by alleged gunman Stephen Paddock, who stockpiled an arsenal before firing into a music festival crowd from his hotel room window at the Mandalay Bay Casino.
According to E! Online, Celine told her Tuesday night crowd she didn't know if performing was the right thing to do, but soldiered on anyway, praising the first responders, as well as the doctors and nurses who continue to fight to save victims.
Dion announced she was donating all the proceeds from the show to the victims.
"On Sunday we lost too many beautiful, innocent souls, and so many are still suffering," she said. "But tonight we're going to let these families know that we are supporting them and that we will help them through their tragic loss."
Dion has been a fixture in Las Vegas since starting her first residency at Caesars Palace in 2003.
Copyright © 2017, ABC Radio. All rights reserved.