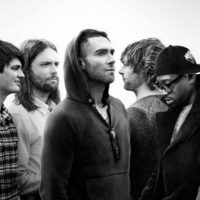 Travis SchneiderMaroon 5 has finally revealed the title of their new album: it's called Red Pill Blues.
The disc is available for pre-order starting this Friday, October 6. Oddly, the actual release date has not been revealed, though Adam Levine has said it's due in November.
The album's unusual title seems as though it's inspired by the movie The Matrix. In that movie, Laurence Fishburne's Morpheus famously offers Keanu Reeves' Neo two pills, and tells him if he wants to return to his boring, everyday life, he should take the blue pill. But if he wants to be awakened to the true nature of his existence, Morpheus says, he should take the red pill. Of course, Neo chooses the red pill.
Red Pill Blues, therefore, could be a metaphor for the emotional distress one experiences when you're suddenly "woke."
The album's current single, "What Lovers Do," featuring SZA, is out now.
New album #RedPillBlues. Pre-order on 10.6.17 pic.twitter.com/o3nnPrYxIR

— Maroon 5 (@maroon5) October 4, 2017
Copyright © 2017, ABC Radio. All rights reserved.