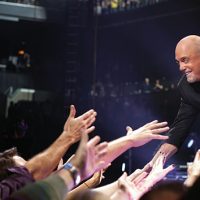 Myrna SuarezBilly Joel will make an appearance on ABC's Jimmy Kimmel Live! when the show originates from Brooklyn, NY later this month.
Starting Monday, October 16, Jimmy and his crew will be doing their show at the Brooklyn Academy of Music's Howard Gilman Opera House for a week, and all the guests are New York locals. In addition to Billy, Jimmy will welcome his own personal idol, David Letterman, as well as Tracy Morgan, Amy Schumer and Howard Stern.
Interestingly, Billy is simply described as a "guest," not a "musical guest," so he may not perform. Actual musical guests during the week include chart-topping rapper Cardi B and alt-rock band LCD Soundsystem, both of whom are also New York-based.
In addition, David Letterman's former bandleader, Paul Shaffer, will sit in each night with Kimmel's house band, Cleto and the Cletones. More musical performers and guests for Jimmy Kimmel Live! Back to Brooklyn will be announced soon.
This will mark the third time Jimmy's doing his show from Brooklyn.
Copyright © 2017, ABC Radio. All rights reserved.