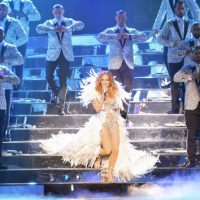 Denise TruscelloFollowing the mass shooting in Las Vegas Sunday night, Jennifer Lopez has postponed the next three dates of her All I Have Vegas residency show.
She was originally supposed to perform October 4, 6 and 7 at the Planet Hollywood Resort & Casino. Ticket holders for those dates will be contacted by Ticketmaster and the Axis box office to obtain refunds or exchanges.
"Jennifer is heartbroken that such a senseless tragedy occurred," reads the statement announcing the postponement. "Her thoughts and prayers are with the victims and their families."
J.Lo tweeted about the tragedy Monday morning, writing, "I [heart] Las Vegas…feeling so broken this morning."
At least 59 people were killed and 527 injured when a gunman opened fire on the Route 91 Harvest Festival Sunday night.
Copyright © 2017, ABC Radio. All rights reserved.