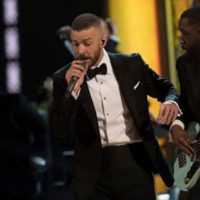 ABC/Eddy ChenIf you've got one of Amazon's new devices that features the Alexa voice assistant, you can ask it to play any song that you want. But what if you don't know what the title of the song is? What if all you know is a lyric?
Turns out Alexa can handle that as well — and the most requested-lyrical fragment is from a Justin Timberlake hit.
According to Britain's Press Association, the line "I got that sunshine in my pocket," from Justin's #1, Oscar-nominated smash "Can't Stop the Feeling!" is the most-requested lyric on Amazon Music's Top 50 Alexa lyrics chart. Another line from the song, "I got this feeling inside my bones," is the third most-requested lyric.
The second most-requested lyric is "True love won't desert you," a line from a song that's been around since 1983: Journey's "Separate Ways (Worlds Apart)."
Here are the rest of the lyrics that people ask Alexa to play most often:
4. "I came in like a wrecking ball"/Miley Cyrus, "Wrecking Ball"
5. "Once I was seven years old"/Lukas Graham, "7 Years"
6. "Hello from the other side"/Adele, "Hello"
7. "Hey mama, don't stress your mind"/Jonas Blue featuring William Singe, "Mama"
8. "I'm in love with the shape of you"/Ed Sheeran, "Shape of You"
9. "I can make your hands clap"/Fitz And The Tantrums, "HandClap"
10. "Hello darkness my old friend"/Simon & Garfunkel, "The Sound of Silence"
Copyright © 2017, ABC Radio. All rights reserved.