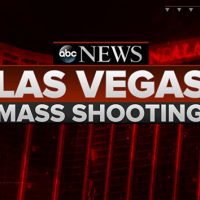 ABC NewsMusicians continue to take to Twitter following the news of the mass shooting in Las Vegas last night that left 58 people dead and more than 500 wounded.
The alleged shooter, Stephen Paddock, who is believed to have killed himself, shot at a crowd of 22,000 people enjoying a country music festival, firing from the 32nd floor of the Mandalay Bay Hotel and Casino on the Las Vegas strip.
Here are some of the latest reactions:
Rob Thomas: I am so sad. As a musician, a fan, an American and a human. No matter what the motive behind this horrible act was, this is terrorism. We have had far too many reasons to send out our thoughts and prayers these days but we are sadly finding out that we have more room in our hearts. Please fill some of that space thinking about some people who just wanted to have a good time celebrating life and listening to some music. Whatever God you pray to, may he keep you safe.
Cher: Oh lord… woke to Vegas Massacre. My heart goes out to Relatives & Friends of wounded & Departed.Music is meant 2 bring Joy. SO SORRY.
Britney Spears, who has a Vegas residency: Completely heartbroken over the news this morning. Keeping the victims of last night's tragedy in Las Vegas in my prayers.
Backstreet Boys, who have a Vegas residency: In shock. Thankful our team is safe. The Vegas community and all affected need more than thoughts and prayer, but it's a start.
Boyz II Men, who have a Vegas residency: Just heartbroken. Can't wait to hug you all this weekend [Las Vegas].
Josh Groban: I'm at a loss for words. Just pure sorrow for the victims and their families. For music fans around the country. For the city of Las Vegas….I'm also filled with anger. Freedom should mean being able to go to school. Watch a concert. Gather to pray. Live in peace.
Andy Grammer: I've played tons of inspired incredible concerts in Las Vegas. As a city it's been amazing to me and my fans. This morning I'm heartbroken.
Jennifer Lopez, who has a Vegas residency: I [heart] Las Vegas…feeling so broken this morning.
Michael Franti: There's so much pain in the world right now. We all need to do as much good as we can in the time we've got. The world needs it now.
Copyright © 2017, ABC Radio. All rights reserved.