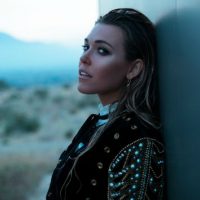 Sarah Barlow + Stephen Schofield
October is Breast Cancer Awareness Month, and Rachel Platten's doing her part to help make patients and survivors' lives better. She's joined the "More Good Days" initiative, a program from Ford Warriors in Pink dedicated to improving the lives of those touched by the disease. As Rachel tells ABC Radio, "It's about reaching out, and doing whatever small act you can."
"Their whole belief is that it's the little things that count," says Rachel. Those include meal deliveries, free workshops and free access to yoga and mediation tools.
"It's really beautiful how they understand that we often get intimidated when someone's facing something humongous…we don't know how to relate," she explains. "So we don't do anything, 'cause we're scared it that it's not gonna be enough."
But as Rachel has learned, sometimes, it's enough to simply listen.
"I talk to a lot of survivors and patients through this initiative and I ask them…'What do you want from your friends and family and loved ones?' And it was often, 'To let me cry. To let me not be OK… and to just say that you're gonna be there.' And I think that this initiative really gets that."
Rachel also has been deeply touched to hear how much her music, especially "Fight Song," has helped cancer patients, too.
"Oh, my gosh, it's so beautiful, they share the coolest stories," she gushes. "I have these amazing one-on-one moments with fans…it's a lot of tears, sometimes."
"I didn't know music can change lives like that," she adds. "To see it in person, and to have a fan hug me and tell me just how meaningful a song can be…that's really beautiful. It makes me so proud of the job I get to do in the world!"
Copyright © 2017, ABC Radio. All rights reserved.