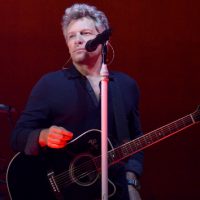 ABC/ Ida Mae AstuteJon Bon Jovi has just shelled out big bucks for some new Manhattan digs.
According to Variety, the singer dropped nearly $19 million for an apartment in the recently refurbished Greenwich Lane complex in New York's West Village.
His new place has four bedrooms, four-and-half bathrooms with heated floors and a laundry room. The master bedroom boasts a huge walk-in closet and a spa-style bathroom with a tub set in front of the floor-to-ceiling window with a city skyline view. There's plenty of room for Jon, his wife Dorothea, and their four kids.
The luxury building also counts designer Michael Kors and Starbucks executive chairman Howard Schultz as tenants.
Jon's previous New York City property, a $16 million duplex also in the West Village, is still on the market.
Copyright © 2017, ABC Radio. All rights reserved.