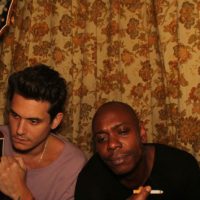 Courtesy Live Nation/John Mayer & Dave ChappelleWanna spend New Year's Eve with John Mayer? You can…but you won't be able to post any pictures of the experience.
John and his buddy Dave Chappelle are staging a New Year's Eve performance December 31 at the Forum in Inglewood, California. The two have already staged their music and comedy experience, which they call Controlled Danger, several times, but this event will be on a much bigger scale.
The first half of the show will feature John performing solo, as well as a solo comedy set by Chappelle. For the second half of the show, the two will team up for songs, stories, dancing and more. Balloons will drop at midnight to ring in 2018, and everyone will receive party favors.
The bad news is that you can't take selfies of yourself enjoying the festivities: the show is a strictly "no cell phones" event. All phones and smart watches will be locked up in special pouches, which will be unlocked at the end of the show. If you're caught using a phone during the show, you'll be thrown out.
The good news is that concert promoter Live Nation says that "commemorative photo opportunities will be made available (at no extra cost)." What will cost extra, though, are special ticket packages, which include access to a pre-show lounge with refreshments and booze, as well as a meet-and-greet with John and Dave.
Tickets go on sale Friday at 10 a.m. via LiveNation.com. Chase customers can grab tickets starting at 10 a.m. Wednesday through 10 p.m. Thursday via Ticketmaster.
Leading up to the New Year's Eve show, John will be on tour with Dead and Company, the Grateful Dead spinoff band. His run of dates with them begin November 12 at New York's Madison Square Garden.
Copyright © 2017, ABC Radio. All rights reserved.