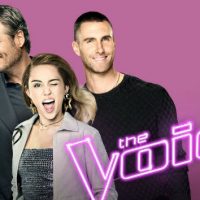 NBC Universal
Tonight, The Voice hits lucky 13: It's the premiere of the Emmy-winning NBC show's 13th season. This time around, there-since-day-one coaches Adam Levine and Blake Shelton are joined by returning coach Miley Cyrus and brand new coach Jennifer Hudson, who's got something that Adam says he's "super jealous" of.
"Jennifer is awesome, like, there's brand new energy, she's never done it before," says Adam of the former American Idol contestant joining the show. "She's the only coach on The Voice that has an Oscar, which I'm super jealous and p****** about…I want one!"
The closest Adam has been to an Oscar is singing on a song that was nominated for one: "Lost Stars" from the 2014 movie Begin Again.
This season, fans can expect more bickering between Adam and and his fellow Voice lifer Blake, but despite their on-screen rivalry, Adam admits they have a deep and enduring friendship.
"I will never have another friend like him 'cause we both went through this really weird thing…both being musicians and coming from a completely different place and being thrown into television," Adam says.
"I feel that kinship with everyone that does the show," he adds. "But with Blake, it was kind of like, our friendship was blossoming at a time when we were first experiencing the show and I'll never have that with anybody else."
This season's guest advisers, who'll show up a little later in the competition, include DNCE frontman Joe Jonas for Team Adam, Destiny's Child member Kelly Rowland for Team Jennifer, country superstars Rascal Flatts for Team Blake, and none other than Miley's own dad, Billy Ray Cyrus, for her team.
The Voice season 13 airs tonight on NBC at 8 p.m. ET
Copyright © 2017, ABC Radio. All rights reserved.