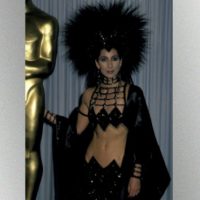 Jim Smeal/WireImageDecades before anyone heard of Lady Gaga, Cher was raising eyebrows with her over-the-top, body-baring fashions. She says she's kept all the wild outfits she's rocked over the years, even though she says she literally can't wear them anymore.
Speaking to People magazine, the legendary diva, still going at 71, says, "[My costumes] have to be kept in a unit that is the right temperature so the fabrics are preserved. I don't plan to re-wear them…my whole life, I was 106 pounds, and I haven't been that in a million years!"
"I can't really get into most of them," she admits. "There's a big difference between 106 and 126."
After decades of sequins, beads and wigs, Cher says her all-time favorite look is still the famous black outfit she wore to the 1986 Academy Awards. It featured a tiny sequined spiderweb top, acres of bare tummy, a long, black, straight sequined skirt, and an over-the-top feathered headdress. It's no wonder she describes her style as "insane."
"It was just crazy, but I was so in love with it," she says of the Oscar gown. "It was this huge black feather Mohawk. I mean, I love that outfit so much. It was so beautiful. If you saw that outfit in person it was just amazing."
Cher, who says she keeps in shape by doing planks for three to five minutes at a time, says she just has one rule when it comes to fashion: "Be who you are."
"When [her late ex-husband] Sonny [Bono] and I first started, we were wearing clothes that no one was wearing and that got us into trouble. People thought we were freaks," she recalls. "There's a penalty when you're the first to try something different."
Copyright © 2017, ABC Radio. All rights reserved.