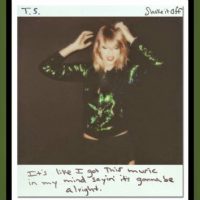 A rep for
Taylor Swift
is shaking off a copyright infringement lawsuit over Taylor's 2014 #1 hit "Shake It Off," calling it "nothing more than a money grab."
According to
The Hollywood Reporter
,
Sean Hall
and
Nathan Butler
, the songwriters behind R&B group
3LW
's 2001 single "
Playas Gon' Play
," have filed suit, claiming Taylor's use of the phrases "the players gonna play….and the haters gonna hate," improperly copies their song.
In the 3LW song, the girls sing, "Playas, they gonna play/ And haters, they gonna hate." Hall and Butler claim that they were the ones who popularized that phrase, according to the complaint, as quoted by The Hollywood Reporter.
"The combination of playas/players playing along with hatas/haters hating may seem like common parlance today, however, in 2001 it was completely original and unique," asserts the complaint.
It goes on to claim that Hall and Butler "were the first to put such a sequence together using the terms playas and haters, and prior to Defendants' use at issue herein, the combination had not since been used in popular music."
The suit accuses Taylor of copying both the players/haters combination, but in a statement to ABC Radio, her rep dismisses the claim as "ridiculous," calling it "nothing more than a money grab."
The statement goes on to say, "The law is simple and clear. They do not have a case."
In 2015, Taylor fended off a similar suit from an R&B singer named Jesse Braham, over his 2013 song "Haters Gone Hate," which also used "players gonna play, haters gonna hate," but in reverse order.
In dismissing that claim, Judge Gail Standish of the U.S. Central District Court in California, cited 3LW's earlier song as proof that the phrase was not original to Braham's tune.
Copyright © 2017, ABC Radio. All rights reserved.