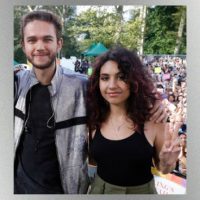 ABC/Heidi Gutman
If you're mostly familiar with Canadian singer/songwriter Alessia Cara from her empowerment anthem "Scars to Your Beautiful," you may not have recognized her singing on "Stay," her latest hit. It's a one-off collaboration between Alessia and deejay and producer Zedd. While she realizes the electronic dance music vibe of the song is a bit of a change in artistic direction for her, she's glad she did it.
"It was really different for me, it's a lot bolder than my usual stuff," Alessia tells ABC Radio. "But I thought if I was gonna do something [with another artist], I wanna sing on a song that I really believe in and work with on a song I believe in and work with an artist, or a deejay, that I really like."
Alessia says she and Zedd ended up working together on the song the way everything is done these days: online.
"He actually emailed [the song] to me which is, y'know, very millennial of us to do," she laughs. "Like, 'Let me just send it to you online!' But, I mean, we've wanted to work together for a really long time."
"He just sent me the beginning of the song that was written, and he was like, 'Hey, do you wanna finish this, do you wanna do it with me?'" she adds. "And just hearing it and listening to the beginning of it, I knew that it was a really great song." The video for the track went on to win the Best Dance Video trophy at the MTV VMAs last month.
Despite the success of "Stay," Alessia says her next album won't be full of electronic sounds: instead, she's penning all the songs herself, and says they're inspired by how she's been processing the way her life has changed since she became famous. Unfortunately, we're not likely to hear any new music from Alessia until 2018.
Copyright © 2017, ABC Radio. All rights reserved.