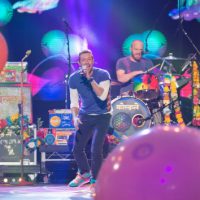 Image Group LA/ABCColdplay and Houston native Beyonce are reaching out to Houston as the city as it struggles to overcome the devastation of Hurricane Harvey.
In a statement to the Houston Chronicle, the singer, a Houston native, "My heart goes out to my hometown, Houston, and I remain in constant prayer for those affected and for the rescuers who have been so brave and determined to do so much to help."
She adds, "I am working closely with my team at [my charity] BeyGOOD, as well as my pastor to implement a plan to help as many as we can."
Meanwhile, Coldplay is sending love to their fans in Houston, after they cancelled the show there last Friday, ahead of the storm. Monday night at their show in Miami, the band performed a song called "Houston" which they dedicated to their fans in the beleaguered city.
"This is because we all grew up loving country music, and of course that's kind of what we think of when we go to Texas," frontman Chris Martin told the crowd, according to the Chronicle.
"So, if you'll bear with us, this is a new song and we'll never play this again. It's a one-off and it's called 'Houston.' We're gonna sing it in Miami for everybody here, and we're gonna send it over there to everyone who missed the show [in Houston]."
The song's lyrics include the lines, "From Miami, we are sending love to Houston/We're praying that you make it through the rain/I know nothing's gonna break the will of Houston/Oh, how we can't wait to go down there again."
The band has yet to schedule a makeup show in Houston.
Copyright © 2017, ABC Radio. All rights reserved.