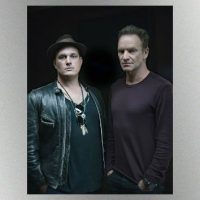 2016 Rumor Mill Records, photo by Dikayl RimmaschSting is being honored by the Smithsonian next month for his contributions to American music.
He's being recognized along with composer J. Ralph, who collaborated with Sting on the Oscar-nominated "The Empty Chair" for the documentary Jim: The James Foley Story.
The two will participate in a discussion at the Smithsonian's National Museum of American History in Washington, D.C., moderated by journalist Dan Rather. The discussion will be followed by a performance by Sting and the debut of J. Ralph's latest symphonic composition, "Evolocean."
Sting and J. Ralph will also be donating memorabilia to the Smithsonian.
A limited number of tickets to the event, which takes place on September 8, are on sale for $150. Proceeds go to benefit the museum's culture and arts programs.
Copyright © 2017, ABC Radio. All rights reserved.