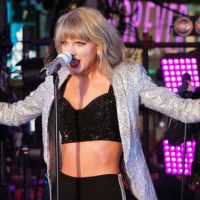 ABC/Lou RoccoTaylor Swift's snake is complete.
If you look at her Instagram feed, there are now three videos in a row, and together, they all make one complete snake. Today, Taylor posted the head of the snake, and it's pretty darn scary: not only is it really evil-looking, but it opens its mouth to show deadly fangs and appears to "strike" the camera.
What's all this leading up to? Fans hope it's a new single, but whether or not the single has anything to do with snakes is another story. It may be a way for Taylor to say she's "striking back" against her haters, who flooded her Instagram feed with snake emojis last year.
If Taylor's new single does arrive this week, it'll be roughly three years since she announced her last album, 1989, and released its first single, "Shake It Off."
— Taylor Swift (@taylorswift13) August 23, 2017
Copyright © 2017, ABC Radio. All rights reserved.