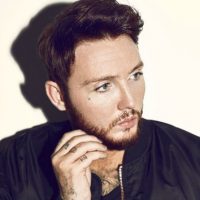 Olaf HeineEver since British singer James Arthur won the U.K.'s biggest singing competition show, he's been a big star back home. But the "Say You Can't Let Go" singer says he never could have imagined that he could actually have a hit song in the U.S..
"Five years ago I won The X Factor, and I've been on a hell of a journey," he tells ABC Radio. "I had everything, I lost it all, and I had to scrape my way back to this point. I believed I could get back to…where I was enjoying my career again, but never did I think that the possibilities were this great."
Then, his song "Say You Won't Let Go," from his album Back from the Edge, started climbing the U.S. chart, peaking at #11 on the Billboard Hot 100.
"Being recognized in the U.S. is, for any U.K. artist, I think…it's the pinnacle," he says.
Not only did he manage to score success in America, but James was also hand-picked by Ryan Tedder to be the opening act for OneRepublic's summer tour.
"To have [Ryan's] co-sign, to have his approval is a great thing," James tells ABC Radio. "Watching them every night is great, you learn something new every day. The guys are seasoned and been doing this for a long time."
The tour with OneRepublic has been going for several months, now, and wraps up in October. James says he hasn't had much downtime this summer, but he doesn't mind.
"I'm loving working, to be honest," he says. "I'm genuinely loving being on this journey and just experiencing new things every day. When I eventually stop, I'll probably just play some FIFA or something. Or go to the pub with my friends."