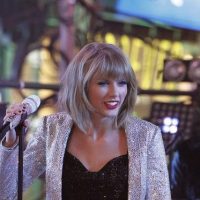 ABC/Lou Rocco
The new era of Taylor Swift may be upon us. Or could it be something more nefarious?
The singer has apparently deleted the profile picture on her Twitter page, and all her tweets post 2015. She's done the same thing on her Facebook page, and deleted all the photos on her Instagram account. Even her official website has been completely blacked out.
When an artist does this, it generally means they're gearing up for a new release, which usually comes with new photos.
Then again, it's possible Taylor isn't the one doing the deleting, and her social media accounts have been hacked. So far, ABC News inquiries to Taylor's people have gone unanswered.
Perhaps not coincidentally, today marks the three-year anniversary of the release of "Shake It Off," and the announcement of Taylor's last album, 1989. That was August 18, 2014.
There's been a lot of talk that Taylor would release an album at the end of this year. Even her friend Ed Sheeran hinted at her putting something out around Christmas.
So is all this a prelude to new music, or a hack? Stay tuned…
Copyright © 2017, ABC Radio. All rights reserved.